---
Coast Guard Festival takes place the first full weekend in August in Grand Haven which is know as Coast Guard City, USA. The Coast Guard Festival unofficially began in 1924 as a Coast Guard personnel only picnic. Today over 350,000 people attend including some of the nations highest ranking Coast Guard dignitaries from Washington, D.C..
Locals travel from across the state of Michigan and from other states to attend this fun filled, respectful event. The Coast Guards motto "SEMPER PARATUS" ("Always Ready") is celebrated each year since the first festival in 1937. The Grand Haven community celebrates their heroes, the men and women of the United States Coast Guard. For more history on the festival go to http://www.coastguardfest.org/#!about-us/cge2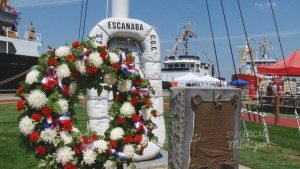 The Grand Haven Chamber host the Coast Guard Craft Fair which is held in conjunction with the Grand Haven Coast Guard Festival the first weekend in August. In addition to the Craft Fair their is entertainment for everyone which includes: Parades, Downtown Carnival, Food, Fireworks, Kids and Senior Day, Car Show, Cardboard Boat Race, Street Dance and let us not forget, time to honor the Coast Guard men and women.
Buy Local Michigan is produced by DW Video & Multimedia, LLC and is copyrighted 2016. To feature your business, community and organization contact Michigan's Video Storyteller, Duane Weed at 231-250-9624.
.