Mecosta County Convention and Visitors Bureau
---
Mecosta Welcome Center Grand Opening was on November 1, 2017. Dozens of community, business and government leaders attended the event to check out the new location. The new building houses offices for the Mecosta County Area Chamber of Commerce and Mecosta County Convention and Visitors Bureau. To have a video like this produced for your business or organization contact Michigan's Video Storyteller Duane Weed.
The event highlight was the ribbon cutting
Connie Koepke, Executive Director of Mecosta County Convention and Visitors Bureau and Jennifer Heinzman Executive Director Mecosta County Area Chamber of Commerce officially opening the newly constructed Welcome Center with ribbon cutting!
The new location, at the corner of State and Elm Streets at 127 S. State Street in Big Rapids, will raise the visibility of the agencies for visitors, said Connie Koepke. "We want to show what we have in Mecosta County and this Welcome Center is it" Jennifer Heinzman states.
Big Rapids Mayor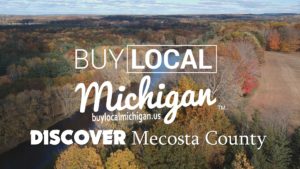 Big Rapids Mayor Mark Warba said "We can be proud of what we have today and congratulations to the CVB and Chamber and those behind it to make the decision to be here."
In a closing remark, Connie from the CVB stated, "We just can't say enough about how excited we are to be in our new building!"
Buy Local Michigan is produced by DW Video & Multimedia, LLC, copyright 2017.
Follow Buy Local Michigan on Twitter, Facebook and YouTube.
At Buy Local Michigan we feature your business through a series of videos that promotes your brand, products and services. Contact Duane at 231-250-9624 for more information.