Pure Michigan 2015 Review
What is a great year than with a look at the Pure Michigan 2015 review. What do you recognize? Where you at any of the events? Michigan has so much to offer the traveler and the in-state tourist.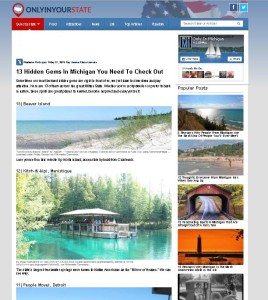 Only in Michigan
This 2015 Pure Michigan Review made me wonder, for an out of state tourist to the in-state tourist what are some the of hidden gems in Michigan. So off to the search engine I went. My first find was 'Only in your state', a website highlighting hidden gems within Michigan. Here are a few gems we found:
* Looking for the Michigan's largest freshwater spring. Kitch-iti-kipi in Manistique is known to Native Americans as the "Mirror of Heaven." Been there many times myself and love it.
* First time I was on Torch Lake was totally amazed at how clear the water was and how long the lake was. Some say the waters are so crystal blue, you would might think you are in the Caribbean. Torch Lake, near Torch Lake Township, Alden, Milton Township
* Did you know the Ocqueoc Falls, near Millersburg, Bismarck Township may be the only waterfalls in the Lower Peninsula of Michigan.
* Looking for galleries, restaurants or music, Old Town in Lansing is an interesting place to spend a day.
My search continued with a trip to the Pure Michigan Blog. Found some to the same gems as in my first search. Places like Chapel Rock Falls and Beach Trail in the Pictured Rocks National Lakeshore. The Atwater Brewery in Detroit. The Lost & Found Antique Store Located in Grand Rapids. And Donckers located in Marquette are only a few more.
Check out the Pure Michigan 2015 Review and many more videos on the Pure Michigan You Tube Channel.
Follow Buy Local Michigan
At Buy Local Michigan we enjoy our Great Lakes state and the people who live, work and play here. Remember to buy and shop locally. Check out some of the wonderful people and businesses located in Michigan, go to our Buy Local Michigan video page. Also, want to be a guest on the show and promote your piece of Michigan from Manufacturing to Retail and so much more. Contact Duane at 231-937-5420.